Tech trends that are improving printing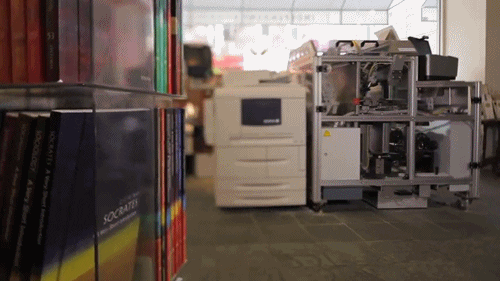 Since the first marketed 'smartphone' the Ericsson R380, released in 2000, there have been technological advancements in the connectivity of devices and introduction of the Internet of Things (IoT). Integration of technological information and applications via a variety of devices, from phones, watches, tablets, televisions, home sensors and car dashboards have all gotten smarter.
Device integration
But not to be left behind, printers have evolved too. No longer just an output device left in the corner of the office. These machines can now be connected to the infrastructure. Modern printers, such as the Xerox VersaLink range, give users the opportunity to connect and print information on mobile phones, tablets and cloud services like DropBox and Google Drive. Workflow optimisation techniques can enable more projects to be completed.
Businesses that are migrating cloud services, can find this cuts through hardware complexities and blocks of synchronising data, from any location with an Internet connection.
SMART printing
The Internet of Things has changed consumers products substantially, and it is positioned to change the landscape of business processes. Powered by machine-to-machine (M2M) communications, IoT is designed to connect all internet enabled devices, allowing a connection, monitoring, remote management and generate actionable data. A connected world of smart devices has the potential to improve efficiency by reducing operating costs, maintenance, as well as help, reduce wastage.
Logixal is driving change in the industry with proactive maintenance, enabling our customers to access a consistent level of print quality and extend the life of the machine. We regularly check parts, clean rollers to remove built-up grime, which reduces the need for service calls by up to 91%. This ensures that your workflow won't impacted negatively at critical times and again reduce operating costs.
In addition, our range of Multifunction printers (MFPs) is equipped with embedded technology that enables Logixal to monitor and manage your print needs, with automated readings, automatic sending of supplies and remote diagnostics. These conveniences provide your business with more up-time and translate into more savings.
We can also improve service quality by collecting information on usage patterns, which can help support you with a better printer for your requirements and help meet challenges you may face.
Moreover, the sustainability of print can be optimised with readings of energy usage and showcasing your carbon footprint, thus helping to reduce your environmental impact, carbon emissions.
Data and Security
An infrastructure of Data and Security need to be agile, to continue the protecting business against the threats of hacking, especially as more companies are moving to cloud-based services. Some printers, like the Xerox Inkjet printers, are designed with multiple tiers of administrative control. This is crucial when handling important confidential documents. Not only can you set conditional passwords, but you can disable USB ports so data cannot be taken.
Printing is an essential day to day task and process of business, and one that will see continual developments in the future. The printer industry is aiming to head towards more personalisation to fit individual organisations requirements, as well as deliver better productivity, efficiency and reduction of costs to businesses. This will happen faster with IoT.
Logixal tailors all services to companies needs. Contact sales@logixal.co.uk for a free consultation or call +44 (0) 20 70100 0120